Being busy this June is an understatement because it has not only included our anniversary, 2 wedding showers, a trip to the lake, dinner parties, a trip to Scott's, and ending the month with a long trip to the beach... all have been successful except the trip to Scott's.
Ryguy and I made the hike down towards the airports 2 weeks ago but I really wasn't "feeling" it, I guess I wasn't on a mission for anything in particular and I wasn't seeing anything that caught my eye. I ended up buying one measly little thing, wait for it.... a matchstick holder.... oh yeah! However, this isn't any ordinary matchstick holder, it's an Hermes matchstick holder.
I know you are thinking, "wow that's random". I have tons of
Lafco candles
all over the house so matches come in handy and ever since I saw where
Abode Love
talked about matchstick holders I have wanted one. So when I saw that perfect little orange box with the "H" I knew that sucker was forever mine.
Since this was a bit of a frivolous purchase I decided this could count as an extra anniversary gift. We've been wanting to upgrade our white dishwasher and refrigerator to stainless steel and decided to for-go anniversary gifts and buy a dishwasher. Woo Hoo! Get E-X-C-I-T-E-D!
It looks so much better than our old one and really compliments the colors in the marble counter tops. Hopefully we can get the matching refrigerator here soon :)
Back to our anniversary, we celebrated a the night after with a trip to
Chastain Park Amphitheatre
to see Colbie Caillat and Gavin DeGraw play. My sweet Dad got us a table so we could take friends and set up a spread which was really fun. You can bring your own food and drinks into the amphitheatre or have it catered which is really cool.
The girls...

My handsome groom...
Our spread... that is until the skies opened over Chastain Park and the rains came in....
Luckily, we were done eating for the most part when it started raining... there wasn't any rain on the radar so we assumed it was a quick pop-up shower. Clearly, the right option in that case is to use the tablecloth as a rain shield....
Unfortunately after about 20 minutes of constant rain the tablecloth was no longer effective and half of us ran for cover... the other 3 tried to weather the storm... you can see how that worked after an hour and a half...
Soaked to the bones...
The rain finally went away and the show started... Colbie Caillat was great as usual, she has such a good voice! Andy Grammar (below with Colbie) opened for her and he actually was really good too.
A few nights later, Ryan and I celebrated alone by going to one of our favorite restaurants
Rathbun's Steak
. Wish I had a better picture because I loved my outfit from TopShop, oh well...
All in all a great anniversary!
As for any new house updates, I don't have a whole lot else except a new outdoor addition that I am pretty pumped about. Ryan and I both love a good porch swing, I guess it's a southern thing... nothing beats sittin' on your front porch swaying back and forth, drinking a
margarita
sweet tea and
gossiping
chatting about life. In college my 6 roommates and I were always porch sittin' on the Pink House front porch on James Agee Avenue in Knoxville.
Our front porch is a little narrow but I was bound and determined to find a solution. Thank heavens for google because I finally found the perfect single person swing at 26" wide.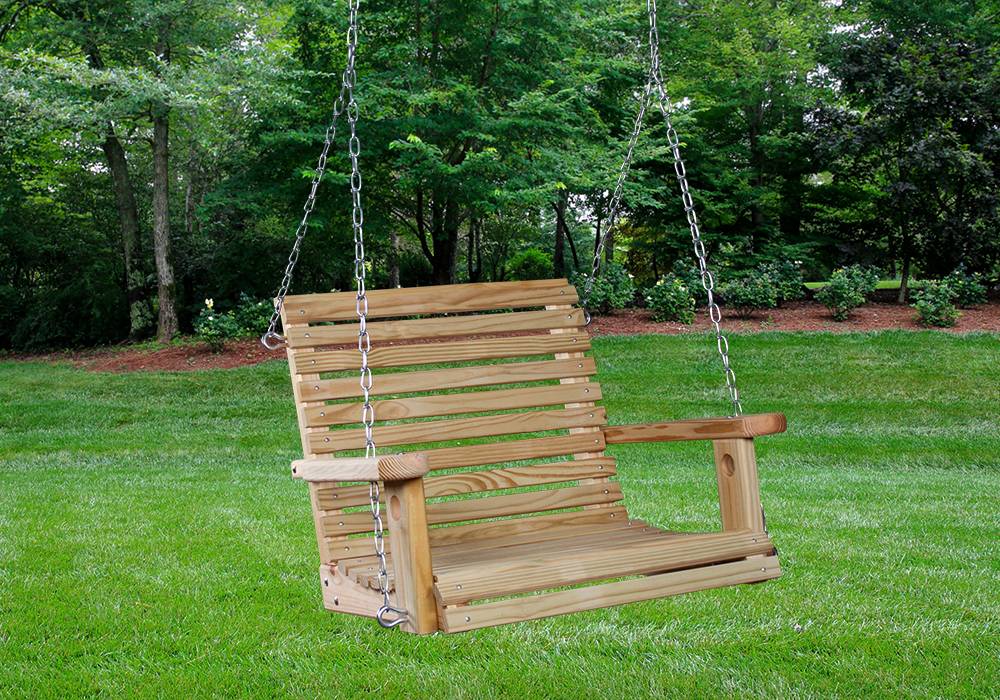 I was so excited when it shipped quickly, now all I have to do is prime, paint, put together, and hang, no biggie!...
I'll be sure to post pics of the final product, might be in a couple weeks so hold tight. Now I've been on the hunt for the perfect outdoor pillow or cushion to adorn my white swing.
Other than that this month, I've been hoping to finally start painting the hallway to the basement so we can hang all of our football stuff in it but the days just haven't been long enough. Between unpacking, laundry, and repacking I'm hoping to get a head start this week.
I have an awesome pinterest recipe I found and have made a couple times which I'll try and post before we head to the beach.